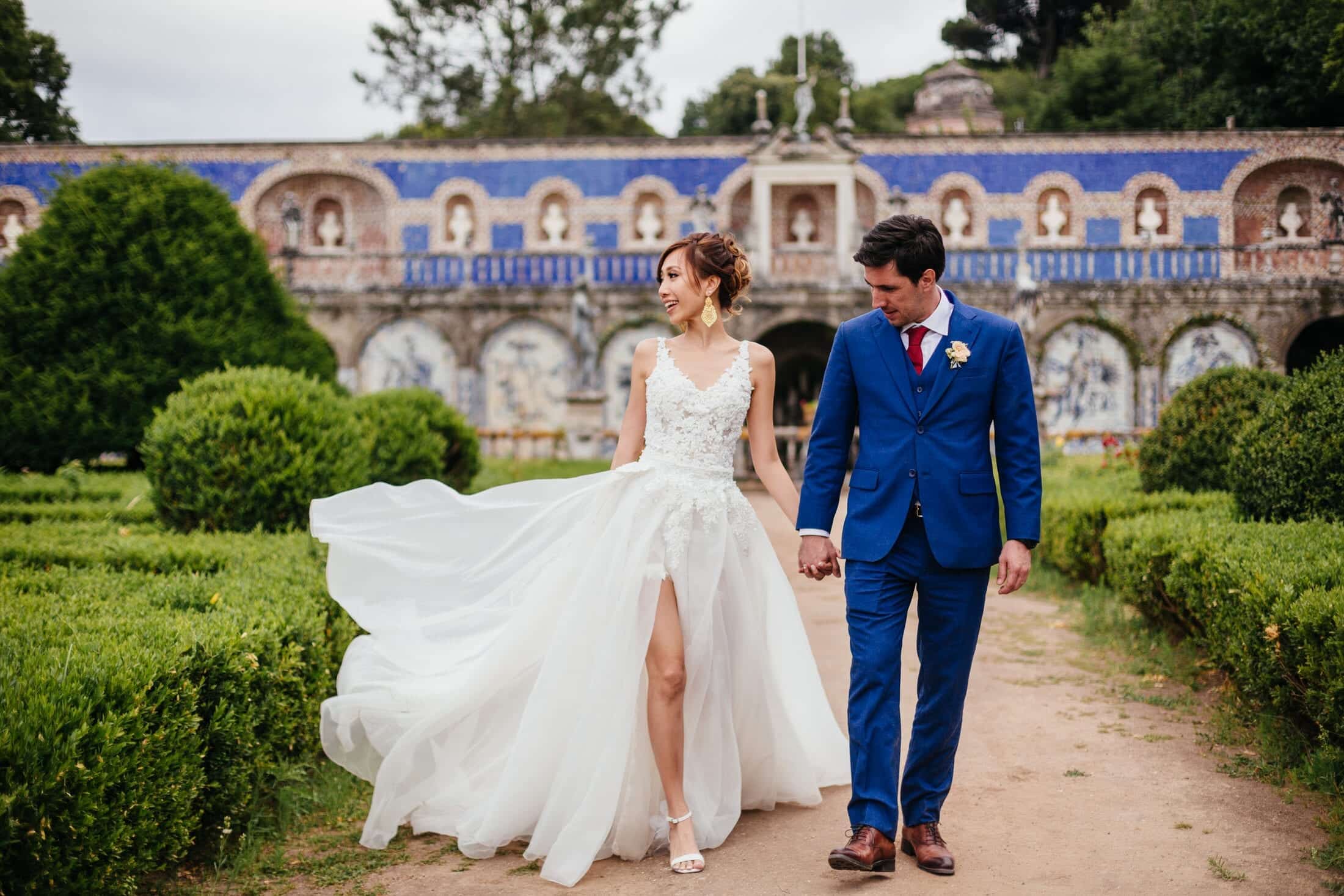 Cindy + André | A Dream Destination Wedding in Fronteira Palace, Lisbon, Portugal
Cindy is a travel-writer, life-stylist, and fashion blogger, she is a very detail-oriented person, and, as a content creator working with visuals herself, she has a good understanding of photography. We were extremely honored that she and her partner André found us on Instagram and chose us among others as her photographers to shoot their destination wedding in Fronteira Palace, in Lisbon, Portugal.
She is used to being photographed but she told us that André is not too keen on being on the other side of the camera (he is, in fact, the one who takes most of Cindy's blog and Instagram photos), so they loved it that we got to meet them a few days before the wedding, for the engagement shoot we offer as part of our wedding photography packages.
"Who would have thought that the power of hashtag (I used #lisbonweddingphotographer) actually works? I found us a pair of dedicated, sincere, warm-hearted professional photographers whose style leans towards mine. They also reminded us of the importance of meeting up before the big day, not just for coffee but for a few test shots or what we call 'engagement shoot'. This allows for both parties to create the necessary chemistry so we feel comfortable working with each other, have the chance to figure out preferred angles, and discuss certain shots I want to be captured on my wedding day. I highly suggest you find time to do this too." (Cindy)
On their wedding day, we all met in Baixa (Lisbon's downtown) and shot their first look in a nice, secluded little square in the traditional Mouraria neighborhood. We then took them around nearby for a few photos. The strong sun (it was about lunch-time) and the people on the street can sometimes be a deterrent for photographers who want to shoot romantic images, however, we embraced both elements and loved the non-conventional result. The colors were vibrant, Cindy and André looked stunning and full of life; and people on the streets, far from ruining our frames, actually added an interesting real-life flavor to the images.
After this brief shoot in Lisbon town, we moved to Fronteira Palace, where the ceremony took place. After the wedding ceremony, Cindy and André served tea to all the guests, as part of a beautiful, traditional Chinese Tea Ceremony. Then we took them around the venue to take their Bride & Groom portraits, and finally, there was dinner, the speeches, the cake, and the dance.
We were so happy with the images we shot during the day, that despite being very tired, once we got home we went through them once again before going to bed.
When we got to finally edit the photos, we loved how the whole photo-story came out, and reading Cindy's words below filled our hearth with joy.
"When my husband makes me mad, I think this set of photos can make me fall in love with him again. So thank you, Your Story In Photos for producing such beautiful yet adorable photos & for making sure the result is exactly what we desire. Emanuele & Romana are so easy to work with, even camera-shy people would love them. i.e. É, who is not a fan of being in front of the camera was relaxed & had fun throughout the entire photoshoot! "
Congratulations Cindy and André! It was an enormous pleasure to be part of your day.
Venue: Palácio dos Marqueses da Fronteira
Video: Hugo Sousa Films
You can follow Cindy on Instagram and on her blog.